Lucille Ball
March 19, 2021
Lucille Ball was a 1950's comedy starlet that changed America's views for the better. She ran a production company with her husband, Desi Arnaz, called Desilu Productions, until she bought him out of the company and ran it herself. Working itself, much less owning an entire company, was uncommon for women to achieve during her time, so it was a standard-changing moment in history.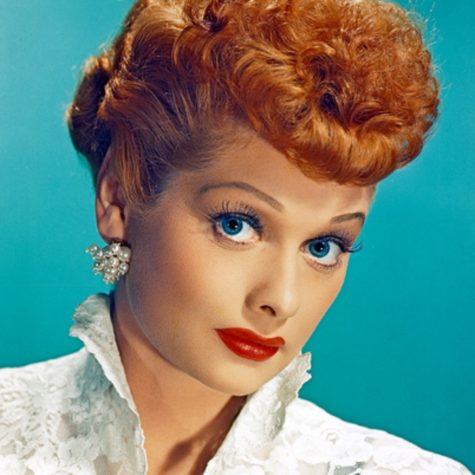 I Love Lucy was Ball's most remarkable show, topping at millions of views per week. According to Upworthy.com, the show is still beloved to this day. It addressed social issues that were considered "taboo" or "scandalous" back then, such as being in a multicultural relationship, being pregnant while on TV, and strict guidelines for how women should act and look. 
Producers of the hit show labelled her husband [Arnaz], as "too ethnic for American viewers," but Ball went against their statement and fought to have him in the show. His presence on the show helped American viewers learn how to be more accepting of relationships they were not used to seeing.
Normally, women were expected to hide their pregnancies on TV, and had to be concerned with whether or not they could balance a job and being a mother without judgement. Ball adjusted this standard by staying on the show while pregnant, then featuring her son throughout the show. She also chose to integrate comedy into the show to shatter gender roles of how women should constantly act prim and feminine. 
An example of this was the episode called "Job Switching." This episode approached the 1950's-like image that men must always work, while women must always be a housewife. It did this in a lighthearted manner, by having the men do housework for a week, while the women [including Ball herself] selected jobs to work at for a week. 
Throughout her life between 1911-1989, Ball was commended for her skills by winning an assortment of awards. These included Emmy nominations and awards, a Kennedy Center Honor, and the Presidential Medal of Freedom.  
"You cannot teach someone comedy, either they have it or they don't" -Lucille Ball
---
References
Koren, Michael (n.d.). History. enotes.com. Retrieved March 04, 2021, from https://www.enotes.com/homework-help/what-percentage-women-worked-1950s-545949
Conway, D. (2019, June 01). 10 remarkable things about Lucille ball that made her Totally fierce. Upworthy.com Retrieved March 04, 2021, from https://www.upworthy.com/10-remarkable-things-about-lucille-ball-that-made-her-totally-fierce  
Womenofthehall.org. (n.d.). Lucille Ball. Retrieved March 04, 2021, from https://www.womenofthehall.org/inductee/lucille-ball/