Let's Celebrate Black History Month: Nina Simone
The legacy of one of music's most legendary singers
February 26, 2021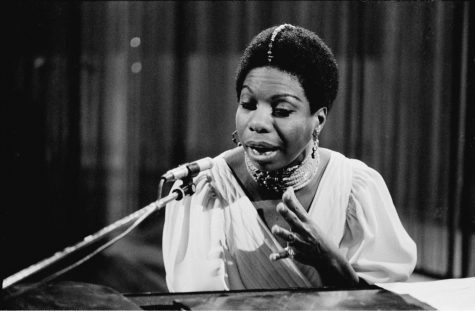 Eunice Kathleen Waymon, better known as Nina Simone, was one of the greatest vocalists of the 20th century.
From a young age, Simone played the piano, studying and performing classical music from composers such as Bach, Beethoven, and Brahams. As a student, Simone attended Julliard to pursue studies in classical Piano performance. However, after school, she would go on to forge a career in singing after performing music in bars along the east coast. As a figurehead of Jazz, Simone recorded multiple legendary songs including "Feeling Good," "My Baby Just Cares for Me," and "I Put a Spell on You." She has also been nominated for two Grammy awards and is an inductee to the Rock and Roll Hall of Fame. 
Beyond being one of the most prominent singers during the era of American Jazz, Simone's music was also a platform for activism. In one of her songs, titled "Mississippi Goddam," the fast-paced tempo matched with an equally energetic vocal delivery: a culmination of Simone's frustration toward the United States' racial prejudices, sluggish government reforms, and the lynchings of innocent Black lives. Another song called "Four Women" took on a slower tempo compared to "Mississippi Goddam," but describes four Black women in various circumstances, highlighting their individual struggles with identity and oppression. Both songs, though differing in musical qualities, are examples of Simone's lyricism in relation to her passion for social change regarding race.  
Throughout her career, Simone was able to produce and perform songs evoking sentiments ranging from soft love songs, to anthems that deeply resonate with the social conflicts that exist both during the mid to late 20th century and our time today. 
References 
2018 Rock and Roll Hall of Fame Inductees Revealed. (n.d.). Billboard. Retrieved February 11, 2021, from https://www.billboard.com/articles/columns/rock/8070293/2018-rock-roll-hall-of-fame-inductees
Biography – The Official Home of Nina Simone | The High Priestess of Soul. (n.d.). Retrieved February 11, 2021, from https://www.ninasimone.com/biography/
Nina Simone. (2020, July 3). Nina Simone—I Wish I Knew (How It Would Feel To Be Free) (Live at Montreux, 1976). https://www.youtube.com/watch?v=vq3sdF0YXkM
Gallery – The Official Home of Nina Simone | The High Priestess of Soul. (n.d.). Retrieved February 22, 2021, from https://www.ninasimone.com/gallery/
Nina Simone. (2020, November 23). GRAMMY.Com. https://www.grammy.com/grammys/artists/nina-simone/16055
Nina Simone. (2020, July 3). Nina Simone—I Wish I Knew (How It Would Feel To Be Free) (Live at Montreux, 1976). https://www.youtube.com/watch?v=vq3sdF0YXkM
Tillet, S. (2015, June 19). Nina Simone's Time Is Now, Again. The New York Times. https://www.nytimes.com/2015/06/21/movies/nina-simones-time-is-now-again.html