Fiends for Caffeine
The Rise of Caffeine Addiction in Teens
May 12, 2020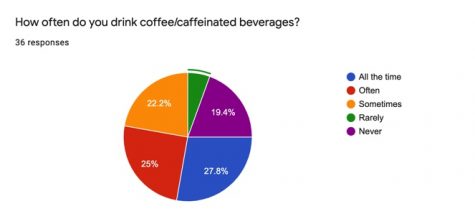 Eyelids hang low to the ground, eager to close for a few moments of rest. Sleep is within grasp, but there is still work to be done. Then, a sip of life! It tastes bitter or carbonated and tart, or sickeningly sweet. Suddenly, eyes brighten, and the blanket of fatigue disappears. Energy flows through veins, and the fatigue flees, replaced by crisp wakefulness.  
This scenario depicts the effects of caffeine consumption, which has been steadily increasing in teenagers around the country since the creation of energy drinks and the opening of coffee chains such as Starbucks.
According to Ms. Millman, a Spanish teacher at Long Reach for the past fourteen years, the presence of caffeine in school has risen over time. "I have always had some students who have brought in coffee in the mornings," she stated. "However, I would say that there are definitely more students who drink it now." 
Millman says that the number of her students who drink coffee has changed from occasionally one or two to consistently three or four every period.
Ariana Armendariz, a Long Reach senior who has been working at Starbucks for a year and a half, notes, "There are a lot of teenagers who come into Starbucks…I would say about 20-30 an hour, give or take."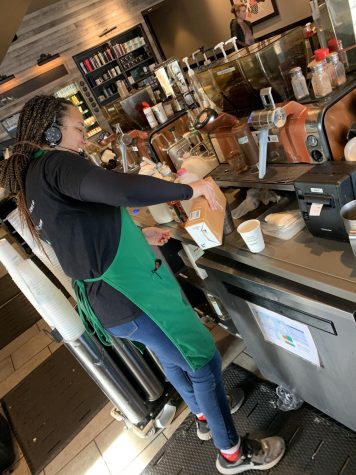 Senior Eli Kuperman is one of these teenagers. He says, "With access to Starbucks, I am constantly feeding my addiction."
Armendariz agrees, stating, "When I got my license, I started to go out and buy coffee more since I had the freedom to do so."
Naturally, Starbucks is not the sole contributor. Millman observes, "I see a lot of students at Dunkin' Donuts in the morning."
Access to coffee shops such as Starbucks and Dunkin' is only one of the factors behind this increase in caffeine addiction. Caffeine is a stimulant that is intended to keep an individual awake and energized for a certain period of time, which is why many sleep-deprived high school students begin consuming it.
Millman refers to the current school schedule as one of the culprits, believing that it does not "work with adolescents' biological clocks."
Junior Hannah Menasria comments, "Because of my constant lack of sleep caused by staying up late doing homework, I constantly rely on coffee to keep me going throughout the day."
Kuperman, who has been waking up early for high school for the past four years, experiences the same need. He explains, "After [drinking] caffeine for so long, not having it feels like a dampener on my body, and makes it much more difficult to stay awake and focused."
In addition to students' general lack of sleep, flavored coffees and caffeinated beverages have resulted in an increase in caffeine addiction. 
Armendariz says, "There are many caffeinated beverages that now appeal to younger kids such as soda, frappuccinos, Starbucks refreshers, and many other things. All those are drinks that kids enjoy, but they do contain caffeine."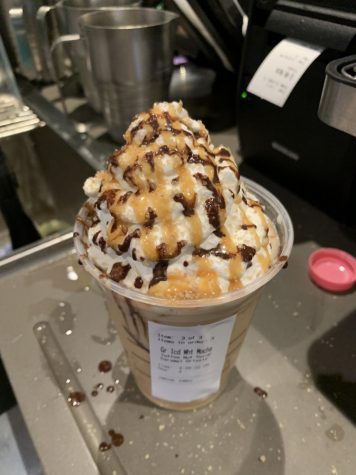 High schoolers find themselves drawn to these kinds of beverages as well. In fact, Sophomore Carmen Lloyd reveals, "If there wasn't flavored coffee, I would never drink coffee."
This increase, however, is not universal. Some students actively choose to avoid caffeine, one of whom is Junior Henry Sharon. 
He comments, "I don't like depending on something like caffeine; I would rather get enough sleep… [Coffee] makes my heart rate rise and gives me the sweats."
Indeed, Sharon's opinion is a valid one since many students and even teachers depend on caffeine. 
Health teacher Allison Sneller states, "If a student becomes dependent on caffeine, they will experience withdrawal symptoms if they cannot have it. Those are typically headaches, irritability, difficulty concentrating, and fatigue."
These are symptoms that many students and faculty members have experienced for themselves. For example, Kuperman claims, "Without coffee, I get headaches and struggle to function."
Millman has experienced the same effects of caffeine withdrawal including headaches and decreased performance.
Armendariz affirms, "When I don't have caffeine, I fall asleep in class, hindering my performance."
Though one's health may suffer as a result of heightened caffeine addictions, this habit is inevitable in some teenagers. For busy and involved students, decreasing caffeine consumption might not always be a realistic choice.
Caffeine consumption, no matter the recent increase, is not a new phenomenon. Moms, dads, grandmas, and grandpas all around Howard County and the world start their day with a cup of coffee; this generation is simply following in their footsteps.