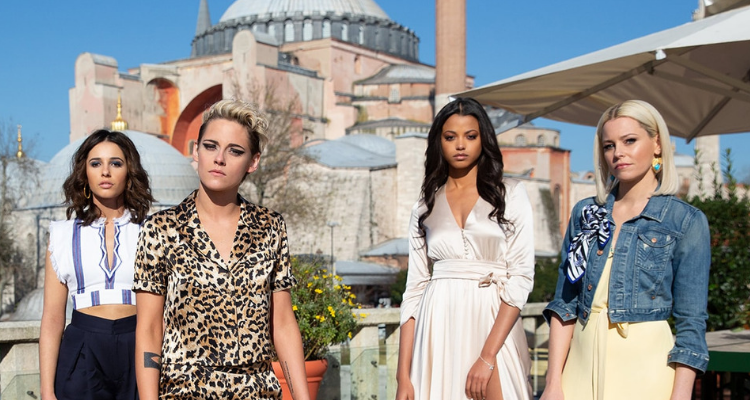 Don't Call Them Angels
Charlie's Angels Movie Review
February 26, 2020
"Women can do everything." This attention-grabbing line from Kristen Stewart, who plays the main character Angel Sabina, opens Charlie's Angels to 118 minutes that provide social commentary on sexism from start to finish.
Director Elizabeth Banks' recreation of the TV show series Charlie's Angels balances playful escapism while also injecting feminist action. The original show series spanned five seasons long from 1976 to 1981 and is about three women, deemed 'Angels,' who work in a private detective agency and receive operations and missions from their unseen boss Charlie to fight crime.
For those who are familiar with Cartoon Network's Totally Spies, the concept of Charlie's Angels resembles this popular TV show series, which aired from 2001 to 2013. It was about three teenage girls who double as secret spies to take orders from their behind-the-scenes boss Jerry.
Senior Dani Noble said, "The movie did remind me of Totally Spies because it was [about] women in a typically male-dominated field, and the concept was similar."
Ella Balinska played the role of lead character Jane, who is tall, serious, and straightforward. Stewart, whose role is the playful Sabina, provides much of the humor but also much of the erratic and wild brutality of her character. Naomi Scott's portrayal of Elena is perfect in her confused aura, which is Elena's secret weapon because everyone underestimates her intelligence and skill in the tech field. Banks herself played the coaching role of Bosley, but no characters or previous Charlie's Angels actors were present.
Charlie's Angels begins as a buddy film but rapidly develops as the third Angel, Elena, is introduced and joins the crew.
The scenes throughout the Charlie's Angels movie feature encounters with men who doubt the Angels and their capabilities. Some examples of this are the introductory scene where Sabina's date does not realize she is a threat until he is completely tied up, and the scene where Elena's boss at her former job talks over her in a condescending manner.
"The movie was centered around three highly versatile, resourceful, and intelligent women who constantly helped others and saved lives," remarked Noble. "It gave a positive image to women and young girls about how strong they are and how much potential they have."
The recurring idea that women are so much more than looks was threaded with humor and really emphasized, especially in scenes where the main characters have to repeat themselves multiple times to passive male characters who won't believe them until they witness the Angels' skills.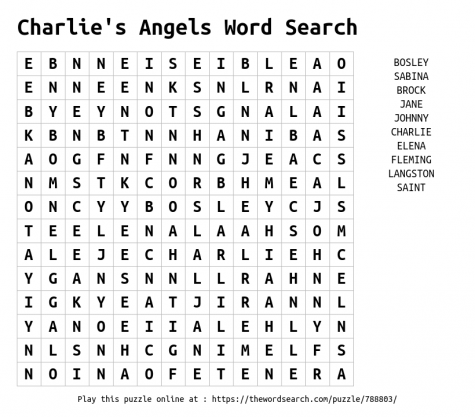 The movie was shot in major cities around the world, such as Istanbul, Rio de Janeiro, Hamburg, and Berlin, and had glamorous and rich locations accentuating the quiet luxury of the more expensive tourism that comes with working for a top secret intelligence agency. The close ups were near enough to see every pore on the face, and the camera often panned the horizon and offered aerial views of the cities and action.
"I really liked the cinematography," Noble said. "I feel like the movie had a very 70s-action feel to it with the outfits, the sound effects, [and] when the Angels fought to the soundtrack."
A standout scene was at one turn of the plot when the Angels talk through everything they had experienced so far into a plot-changing conclusion, which is followed by an explosion. The blackout scenes and distorted audio give the experience of the aftermath of an explosion, especially because of the underwater-like noise, slow motion, and unsteady camera.
On the believability, Noble commented, "The movie was comedic, so they were good at being very over the top."
This film did not see as much success as the 2000 reboot movie featuring Lucy Liu, Cameron Diaz, and Drew Barrymore as the Angels. In addition, multiple big-name review sites such as Rotten Tomato, Time Magazine, and the New York Times wrote negative critiques mainly because the spy-babe feminist commentary is a little unnecessary in this age and very cliche. Regardless, the movie is a feel-good comedy and will definitely leave viewers feeling empowered and ready to combat sexism.
The highly-advertised soundtrack to this film features the popular songs "Don't Call Me Angel" by Ariana Grande, Miley Cyrus, and Lana Del Rey and "Bad To You" by Normani, Ariana Grande, and Nicki Minaj, as well as works from other accomplished artists including Kash Doll, Victoria Monet, Tayla Parx, Kianna Ledé, and Donna Summer.