Coziness at Coffee House
2019 Coffee House at LRHS
January 28, 2020
The Cheshire Cat said "Every adventure requires a first step" in Alice in Wonderland. Similarly, Coffee House was a small adventure that led those who attended to the amazing talents that Long Reach has. 
The National Art Honor Society (NAHS) organized the annual Long Reach Coffeehouse on November 22 and tickets were five dollars at the door.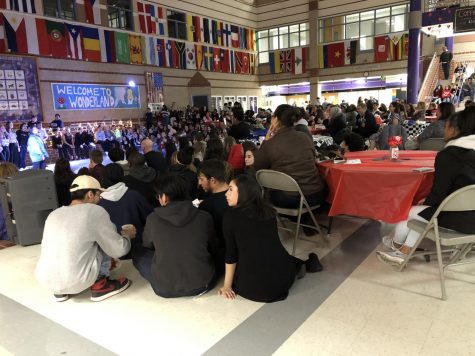 One of the presidents of NAHS, Senior Ji Young Park, stated that the purpose of Coffee House is "to allow students to showcase their talents and let NAHS members have creative leadership." 
To prepare for this aweing night, art teacher Ms. Borleis said that the NAHS executive board first came up with a theme. The theme for this year was "Welcome to Wonderland," referencing the famed fantasy novel Alice in Wonderland. Park said that "the theme was chosen from an anonymous member."
Borleis expanded, "[NAHS] then designed/planned the backdrops, decorations, and table centerpieces. The decorations had playing cards laid out on the tables, and there were cut outs of the four different suits: spades, hearts, diamonds, and clubs. With her role as co-president of NAHS, Park "helped plan the crafts and paintings used in Coffee House." She elaborated, "More specifically, I organized the origami roses and the backdrop."
There were also posters that depicted scenes from Alice in Wonderland. Kristine Deiss, a senior who is in NAHS, said, "We picked those pictures because it was a good way to represent all the characters in one place! The four small boards represented the journey to the big backdrop which was the tea party!" Deiss elaborated, "The four small boards go through the story. It travels from the rabbit hole to the different gardens and then all the way to the tea party. It's Alice's story throughout Wonderland." 
As beautiful as the posters were, it was clear that it took time, effort, and teamwork to complete it. Deiss stated that they were able to finish it by spending time afterschool in order to paint. 
As decoration prep was underway, auditions were held in mid-October. Park stated that being one of the people "to judge auditions with everyone else has been an amazing opportunity!" She added, "It was so difficult to choose which performers we wanted for Coffee House because there were so many talented students!" 
In the end, Park said that they "were able to decide who would match the atmosphere of Coffee House" with the help of Ms. Larsen, art teacher and NAHS sponsor, and music teacher Ms. Pompeii.
As the event commenced, the amount of people who attended filled up all the seats. Many students sat on the atrium steps to watch as their peers performed. Performances ranged from singing to dancing to acting. The improv group also performed several exercises, which received laughs from the audience. 
However, the performers were not limited to just students: teachers and staff also showcased their talents. Ms. Jones, a guidance counselor, sang while playing the guitar and art teacher Ms. Borleis also sang. Mr. Smith, one of the math teachers, played the guitar and did a mashup of multiple songs, to the entertainment of the whole audience. 
There was also a wide variety of food and drinks, from small treats like brownies and cookies to hot tea, juices, and coffee. 
Park stated, "I'm very proud of the exec board and the members for working hard to prepare for such a big event. We all thoroughly enjoyed watching the amazing performances and seeing our hard work all around the atrium!" 
 Senior Elizabeth Liedahl, who sang with two other seniors, Tyra Pritchett and Emily Oberuch, said, "Everyone was so supportive, and that brought my nerves down when I was performing."
Joyce Lee, a senior who performed with Senior Alex Eapen, expressed, "My favorite part was watching people who I've never seen perform before go up in front of so many people and do what defines them best. It's really heartwarming as a community, and it makes me happy to see people go out of their comfort zone!" 
Senior Ciera Hudson would agree as she mentioned "the calm atmosphere and amazing performance" and how she "could feel the community in Long Reach" based on the support she had as a performer. 
Grace Jeon, a junior, stated, "I've gone to the past three coffee houses and each year it gets better. This year, I felt like I was getting more exposure to the underclassmen and having more opportunities to talk to them, so that was great." 
Senior Hirti Patel said, "Coffee house was a great experience due to the fact that we got to see the diversity and talent in each student. Also, this year as a NAHS member, helping plan the event was a stressful but fun experience."
Ms. Skinner, a science teacher, mentioned that she did not attend the previous ones but this year, she attended the event with her husband. She exclaimed, "My favorite part was seeing not only the talent in the students, but in the teachers! Ms. Borleis, Ms. Jones, and Mr. Smith were amazing!" She added, "It was the first time I ever saw Ms. Borleis and Ms. Jones perform." 
The beauty of Coffee House attracted many eyes. Hudson said, "I am definitely going to come back to future Coffee houses after I graduate." 
With the cold air outside, the warm air and the friendly atmosphere inside the building makes the trip from home back to school worthwhile. NAHS members took the Wonderland theme that is often seen on media and turned it into a reality at this year's Coffee House.
---
---
Who are YOU: Alice or the Mad Hatter? Which character from Alice in Wonderland are you most similar to? 
Identify which of the following quotes you agree with or can relate to. 
"Why, sometimes I've believed as many as six impossible things before breakfast." (10) 

"Have I gone mad?" (-5) 

"Curiouser and curiouser!" (10) 

"We're all mad here. You'll fit right in." (-5)

"I don't think–" "Then you shouldn't talk" (-5) 

"It's no use going back to yesterday, because I was a different person then." (10)
Add up the numbers next to the quote. 
If your score is 10 or higher, you are most likely Alice. Your imagination is unique. You love to be knowledgeable and share, but others may misunderstand. However, it's alright because it makes you stand out. 
If your score is less than 10, you are more likely the Mad Hatter. You are outgoing and witty. Others might find it hard to understand you sometimes, but for those who are close to you, it is a bonus that comes with the friendship because you bring the fun.
---