Take A 360 For Your Mental Health
The Benefits Of Having Circle Time In Schools
April 30, 2019
In through the nose, out through the mouth. Deep breathing can be good for de-stressing, but what about a few minutes to discuss thoughts and feelings? Between the tests, essays, extra curriculars, and much more, the stress of school can prove to be overbearing for both students and teachers. Conversing about stressful situations or life in general may be the key to having a calmer mind and a serene classroom environment.
The concept of circle time is one that stretches far back to elementary school, but usually stops there. If circle time can help calm down younger students, then it could also prove beneficial for high school students.
Long Reach has recently started a circle time initiative in order to bring teachers and students closer together and form a better understanding between each other. In addition to getting to know everyone better, circle discussions are proving to be very effective in helping students relieve some of their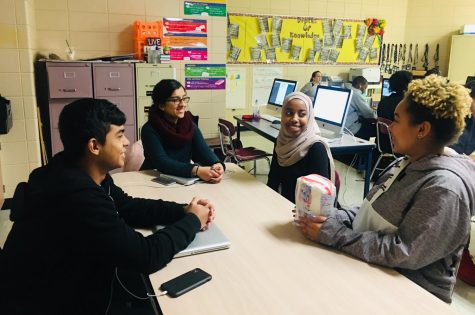 . Senior Maurice Kennedy, stated, "The circle times allow me to get to know my peers and my teachers a bit better and make for a more fun school year."
With so much going on, it can be easy for students and educators alike to bundle things inside while trying to get work done. Letting out your feeling–good or bad–has been proven to be healthy according to KidsHealth.org.
Students being able to share their thoughts and feelings in a safe space is an important part of having a better education. Teachers are able to relate to and understand their pupils much better, allowing for better communication, and it goes both ways. "The first time I did it, I thought it was going to be cheesy, but as we went along, people were actually being heard and it seemed like the teachers and other students got a chance to hear about how we feel on certain topics," said Kennedy.  
Giving students an open mic to talk about their stressors may also prove to help come up with solutions for the future to reduce school induced stress.  Hampton stated, "It [circle time] makes me feel like I can share or talk without feeling out of place."
Fahad Islam, a senior, commented in a similar way, saying,  "Circle time allowed me to express my feelings with fellow peers. We were all able to understand each other." Circle time is proving to be effective for students in only just a year of having the circles in classrooms.
The group sessions are an indication that one is never too old to share their thoughts and feelings about life. Due to the positive feedback so far, it is safe to say that circle time is a beneficial tool to make high school a more open environment.