A Feminist 'Zine Causes a Scene
Netflix's Moxie and Its Empowering Message
In March, Netflix honored Women's National History Month with the release of Moxie, a coming-of-age feminist film that addresses the sexism that runs rampant in some public high schools. Long Reach media specialist Ms. Lee included the book Moxie on the LRHS library's list of reads to honor Women's History Month. 
According to Senior Leslie Deiss, "Moxie addresses the sexism at Rockport High School and the educational institution's ignorance and denial of the students' issues." 
The sexism at Rockport High School manifests in many ways: unfair dress codes, unpunished harassment by male students, and a school-wide list that objectifies the female students in humiliating ways. 
Unfortunately, Rockport's learning environment is not dramatized for the sake of the plot. An anonymous source admits, "I've had my fair share of unwanted touching at Long Reach."
Another Long Reach student adds, "It's so unfair that girls are seen as 'distracting' when they are showing skin."
The real life parallels of Moxie make the film that much impactful to the audience, especially young women.
Moxie's plot kicks off as a retaliation to a series of sexist events when an outraged student, Vivian, anonymously creates a 'zine called Moxie that protests these behaviors that have yet to be addressed by administration. 
As for Vivian's role as the leading lady of this film, opinions are mixed, but two of the four interviewees believe that Lucy, a new student at Rockport High, who defends her beliefs unapologetically, was the right character for this role.
Deiss explains, "Vivian admits that she is not a leader. Most of her ideas aren't even her own. Lucy, on the other hand, is strong, powerful, and inspiring. A story revolving around Lucy would probably have a stronger inspiratory effect because of her unwavering passion."
Junior Carmen Lloyd agrees, saying, "Vivian observed the things that happened rather than actually experiencing it. Although she spoke up for those people, I feel like she didn't truly understand the extent of the issue." 
When analyzing the decision to frame the story around Vivian, it is important to consider the importance of intersectionality in feminism. Intersectional feminism advocates for all humans, no matter their race, gender, socioeconomic class, sexual orientation, or other identities. 
"I don't believe Vivian should have been the main character because, personally, I am tired of seeing white women being the face of new age feminism," clarifies Senior Daryan Allmond. "Vivian being white doesn't really show every part of what the struggle of being a woman is because she doesn't experience any oppression besides being a woman." 
While this film succeeds in representing the issues that young women face in educational environments, it does not succeed in choosing the correct perspective to portray these.
As mentioned by Lloyd and Deiss, Lucy is the character whose passion for the issue is unwavering and who is targeted and harassed for these beliefs. Despite these elements of the plot, the story still revolves around Vivian.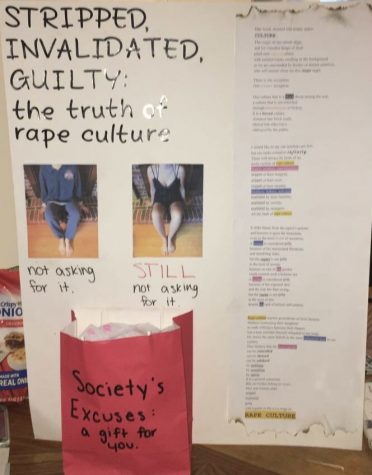 Nonetheless, Moxie certainly succeeds in beginning to address the issues that women face and displays a group of young, strong women banding together to advocate for fair and equal treatment.
Deiss hopes that "every person should be able to comfortably be who they are without being victimized by a society that still assumes male superiority. It's the underlying biases that still cause some boys to not even realize what they're doing is wrong." 
These biases are created by the media and societal expectations of women and men. School would, ideally, be the best place for students to unlearn these biases by being exposed to literature that includes all kinds of voices.
As for Allmond, the film resonated with her due to "the fact that women shouldn't have to change who they are or the things that they do because of a system, especially a system controlled by men." 
Moxie is a must-watch for girls of all ages to begin finding and using their voice, and it should similarly be enjoyed by male audiences of all ages who must expose themselves to the experiences of women in order to create a better, safer society for all.